Most people think "design" is all about making something pleasing to the eye. Although true, this is only half the soul of truly good design.
Design is problem-solving. How do I get a full functioning and full-featured kitchen into a 100″ wide piece of wall?
Stove/Oven
Sink
Microwave
Refridgerator
…and DISHWASHER
Not to mention good lighting, ventilation, elbow room, cabinetry, countertops and water, power, tile, paint, fire extinguisher, et al.?
You see, 100 inches may be small but it creates some big problems you're not going to have to deal with in an ordinary kitchen design that allows for 5X-6X more space.
Let's Go to the Drawing Board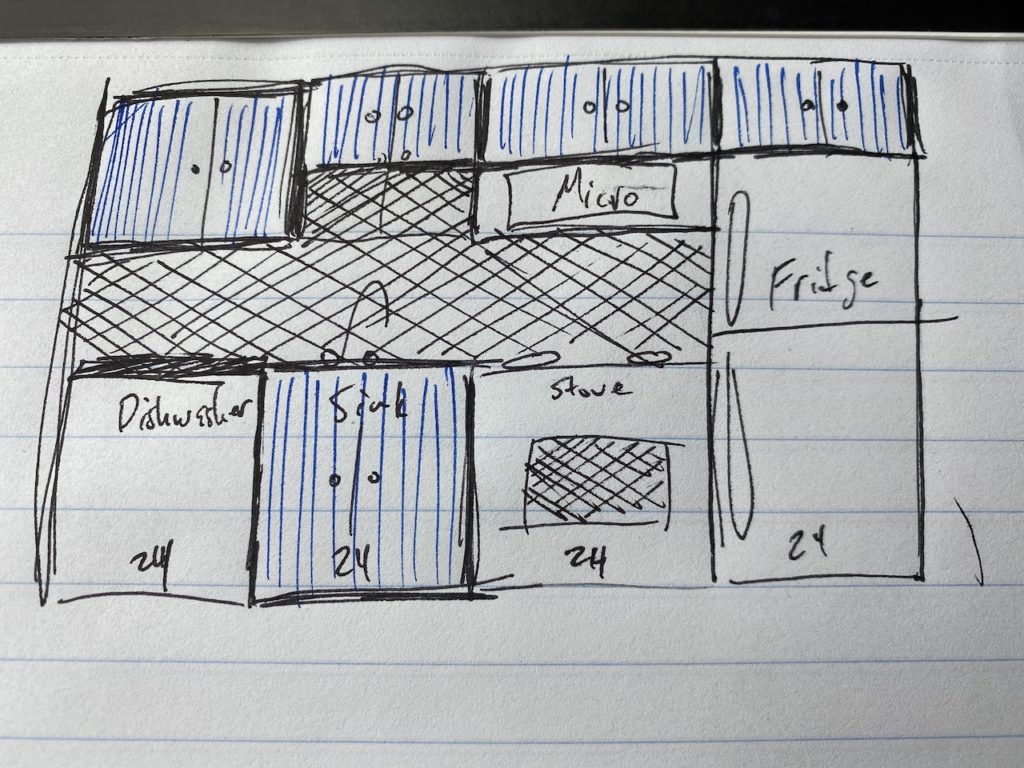 You don't have to be a draftsman to design a kitchen that works for you. The Daybook Cottage is being designed for some personal use but also for short-term rentals (VRBO and the like).
It just takes some basic understanding of the components. As you can see in the sketch above, each section of the four sections is 24 inches in width. 24 X 4 =96!!! Perfect for the 100-inch kitchen.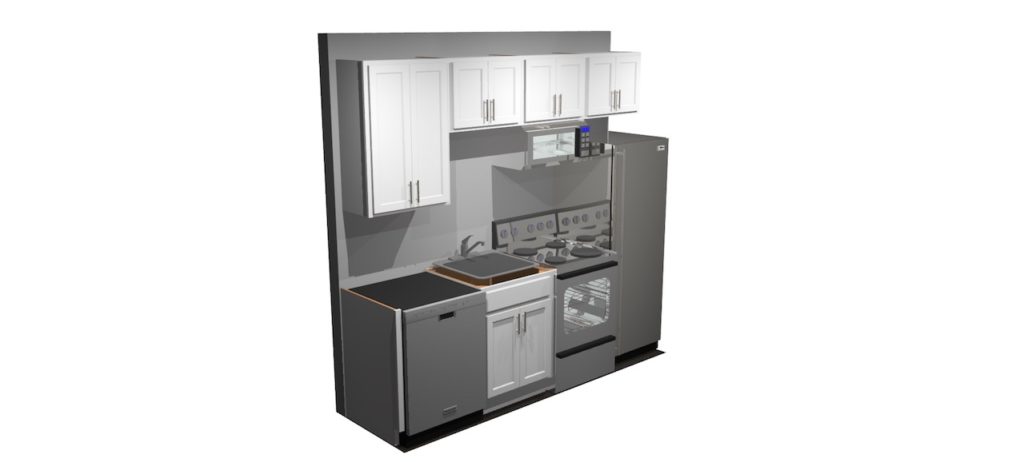 Building Blocks of a Small Kitchen
Now that we've established our 24 inch sections, we can now play around a bit with the layout by moving pieces around to our liking. It doesn't matter, for exploration sake what order I put the pieces in. The question is, how will I live in the space?
Should the sink and dishwasher be at opposite ends?
Will the fridge block the view of the den?
If I put the stove far right, will my elbows hit the wall as I'm taking a sheet of fresh cookies out of the oven?
Don't Bend to the Trend
Farmhouse, farmhouse, farmhouse!!! It's everywhere. I'm not opposed to the farmhouse style trend other than seeing a new 4,000 square foot farmhouse on a 1/4 acre lot. Now that's just silly.
This enamel sink on the backside of one of our long-term rentals is just begging to be put in the spotlight of a new farmhouse kitchen. It could be really beautiful. We initially thought we would put this beautiful sink in the Daybook Cottage kitchen.
Again, good design overrode the urge. The temptation was trend driven and not good design driven.
We would lose what little countertop space we have. Custom cabinetry would have to be made which adds a lot of cost. Specialty fixtures would be required. I can easily see us putting $1,000 into this sink and for no great design-worthy reason. We'll pick up the retro kitchen vibe in other more affordable decor and accents.
Here's Your Sign
Traversing back and forth from the project to Atlanta on I-75 northbound, I saw a huge billboard for "Entire kitchen all wood cabinets for as low as $2,500!" in Fitzgerald, GA.
It's not like me to respond to such salacious offers but when a single 24″ sink base cabinet at Lowe's is $450 you have to consider all options. I called…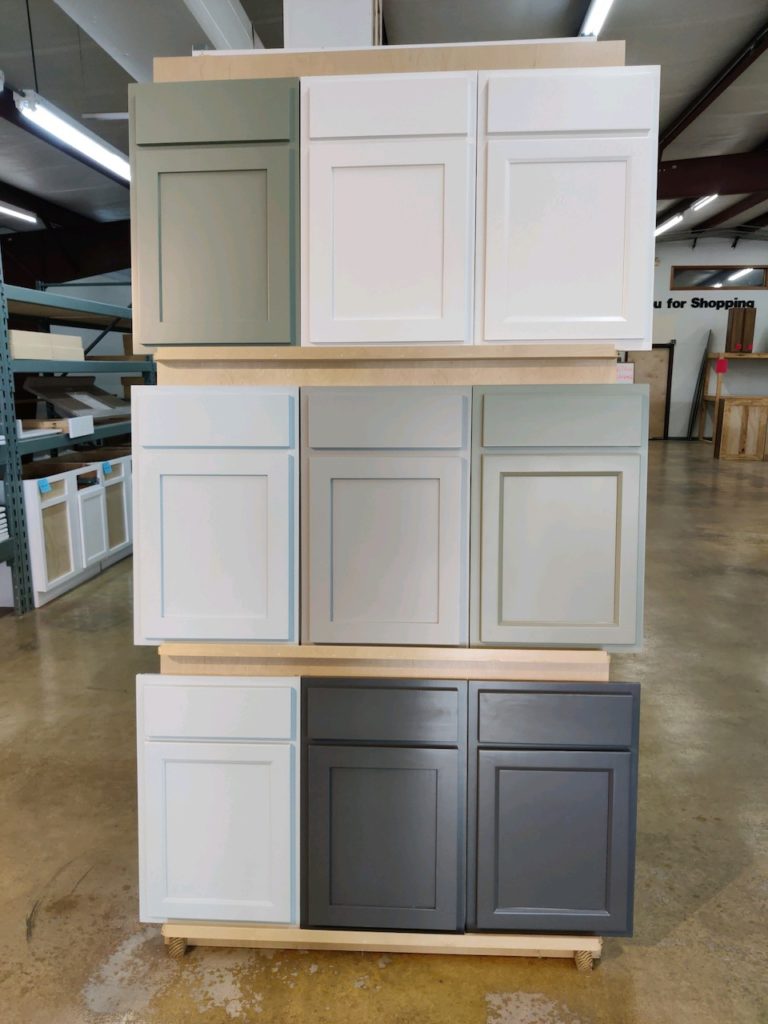 I was impressed! I simply emailed them my sketch and within about a half a day they came back with the rendering at the top of this post and pricing. $950 for the entire cabinet package. Looks like we'll be making a detour to Fitzgerald on our next trip to Daybook Cottage.
You Do You
Let me close this post by encouraging you to design spaces that are pleasing and functional for you. Don't simply regurgitate exactly what you saw on Pinterest. That's why we now have farmhouses everywhere with no farms.
We hope to make Daybook Cottage a memorable and unhomogenized experience. A place you will always remember for how it made you feel thanks to good design and effortless living.