When you visit the nature coast, don't expect nature to change what it has been doing since alligators were dinosaurs to suit your modern sterilized comforts. With all the beauty, serenity, and untouched nature come a few bothersome pests.
There are sometimes deer flies, no-see-ums, mosquitos, and sand spurs to name a few things that may get your attention in uncomfortable ways. Nevertheless, outside is where you want to be!
Daybook Cottage is getting an extension in the form of a deck. Exactly what was missing from the old girl was a relaxing place to enjoy the outdoors. The nature coast outdoors.
It's not a deck for working on your sun tan. It's a deck for circling up the chairs with a cooler in the middle to recap the events of the day.
As of this blog post, we're considering screening in 2/3 of the deck to provide some refuge in those times when you want to dine outside, and swatting at a mosquito on your husband's head with a knife and fork in hand could be tragic.
The idea is to turn the one historic window pictured above into a much wider single window and create a serving window. The serving window would have two stools. Also, a small two chair table would be inside the screened porch for a longer sit-down meal.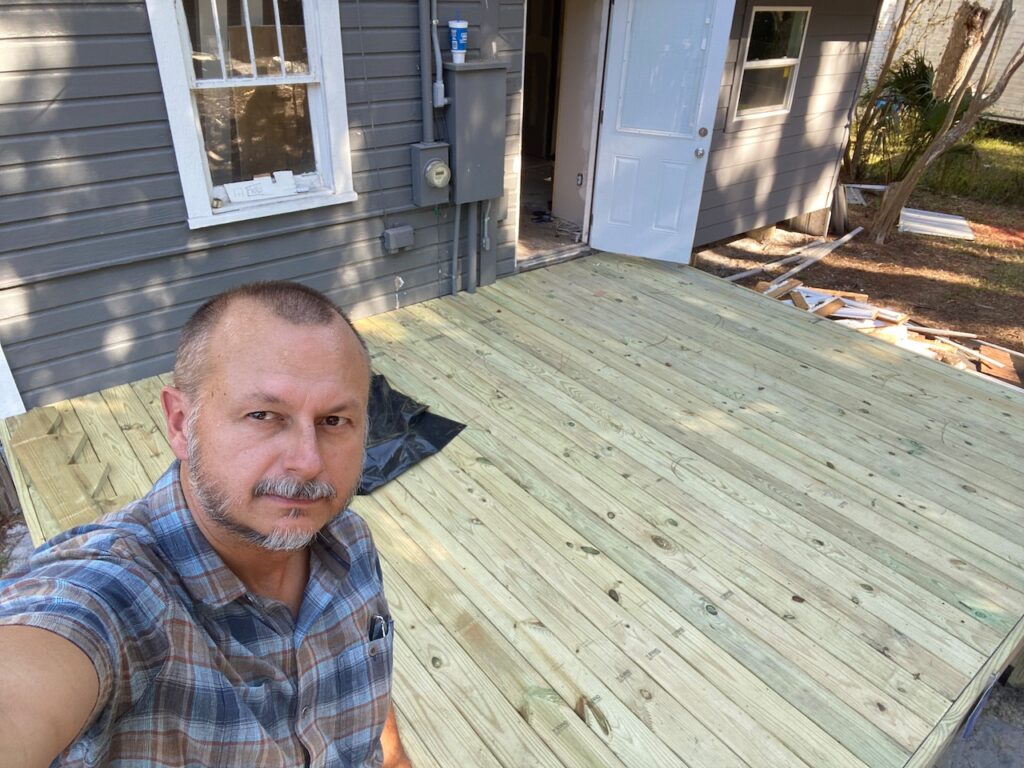 Keep checking back to see what we finally decide about how to finish this new and glorious outdoor living space.
Simply put up a railing. Screen in 2/3s of it. Add an outdoor shower. What will happen next…?
Expect to be rewarded when you visit the Nature Coast and Yankeetown. What it lacks in homogenized hotel rooms and bug-free experiences, it over-delivers in visually stunning and immersive experiences you will carry with you a lifetime.
-John Dodson