My son got married last summer and he is blessed to have a group of young men peers who are usually up for some adventure.
Months ago, I contacted my son and suggested he try and put together a fishing trip with 1-2 other guys. Having just finished Daybook Cottage, Kristy and I were excited to share it with someone.
Having not been in the wedding, admittedly I was a little regretful I had not had the opportunity to do the whole bachelor party tradition with him. I offered him a deal he could not refuse. Get the commitments from your friends and I would pay for everything. They just had to show up.
Life doesn't often give you a "do-over". If you want one you're going to have to create it. 2 days fishing out of Yankeetown, and here's what happened.
Shasty McNasty Fishing Guide
The first day was a full day with guide Shasty McNasty, a guide whose boat I had seen around Yankeetown and Inglis many times in the past few years.
Shasty (Captain Eric Hasty) has a good reputation and making it as a guide is not easy. So, if a guy has been around for a while then he likely knows his stuff.
Shasty's boat is a roomy bay boat with ample decking to easily fish 4 men. The layout has few obstructions which make getting the fighters and runners in the boat a real joy instead of a worry.
When the bite got a little slow, Shasty kept the action going by luring a cobia (not a keeper) close by to let my son get the hookup and enjoy the fight.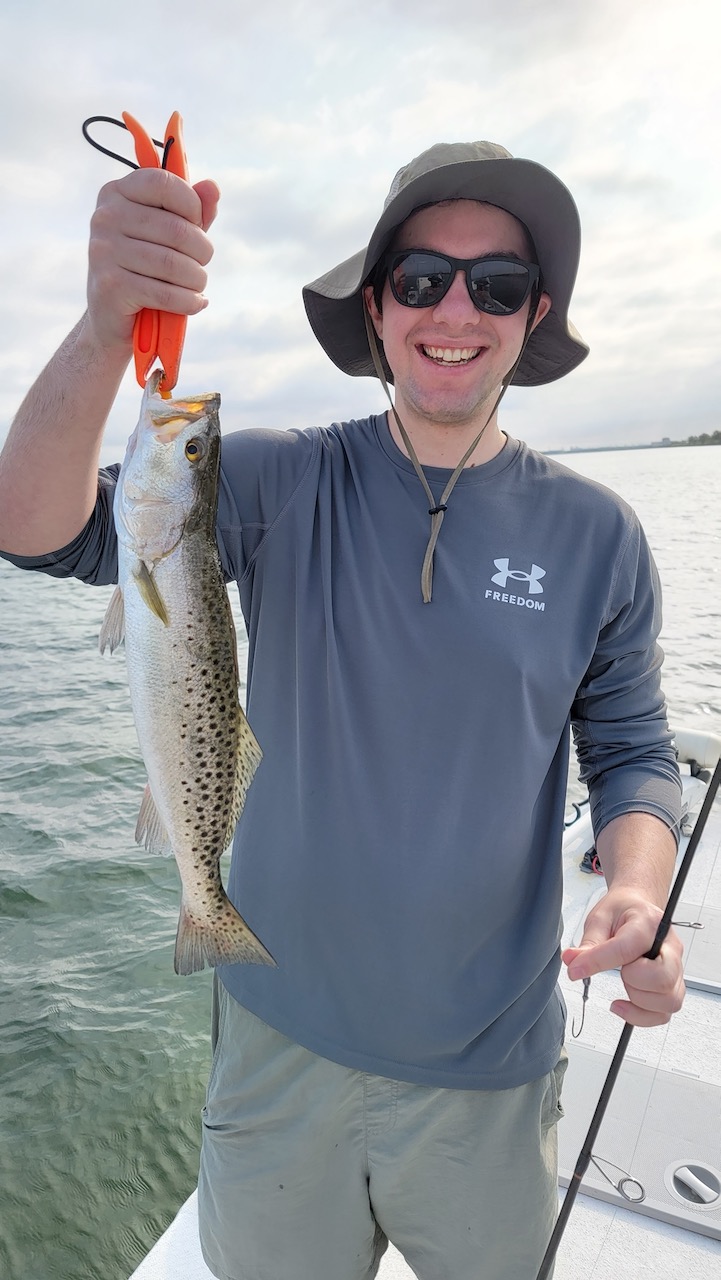 Jay was mostly a novice fisherman but over the two days of fishing put a hurtin' on the rest of us. Beginners luck?!?!? As they say, "All men are equal before fish."
My bad luck stemmed from bringing bananas on the boat as part of our lunch! I've been fishing my whole life and had never heard of bananas being bad luck on a boat. True in my case. I lost a huge snook right at the boat after a long fight.
We closed out the first full day with enough trout and mackerel to make almost anyone happy. The "blue fish" I had never had before so we kept it to give it a try.
A couple of weeks later, I can tell you it makes for a pretty good fish taco. It's a darker and oilier meat with a distinct taste but I would totally eat it again.
Withlacoochee Charters
The second day was a half day with Captain Will Pauling of Withlacoochee Charters. Captain Will is a young guy who I knew nothing about but came as a referral from another trusted guide, Captain Darryl at Black Dog Charters.
My buddy Dan and I spent a day with Black Dog back in February. Check out Dan's nice flounder in this post, "Make Room for Daddy".
Captain Will has a lot of enthusiasm and it translated into some early rewards for this Sunday's half-day outing with the boys. Mackerel usually dart by and snap your line before you can even say "Withlacoochee". Captain Will had us rigged up right to put them in the boat.
Poor Drew struggled with finding his rhythm but thanks to a good guide, the streak was broken for Drew with this (non-keeper) gag grouper. It was caught along the walls of the barge canal.
Unfortunately, Drew's red shirt in this picture is about the same color as Drew's skin after day one in the sun. You got to not underestimate the burn folks. It's real and it sneaks up on you.
My son, Solomon showing off again with the trout! Yum.
Bay Boat Fishing on the Nature Coast
Just a great couple of days all around with two very competent guides. You will have a great time I can promise you with either of the three guides I mentioned but as you know, the fish decide how many trophy fish pics you get.
I hope you have the opportunity to come to Daybook Cottage and enjoy some time with friends and family loading up a cooler with trout, mackerel, redfish, and snook.
Whatever it costs you and however you have to do it, you will never regret memories such as these. I will never forget this awesome weekend spent with my son and his friends.
Yankeetown Fishing Guides